SPECIAL HUNT ON ARCTIC FOX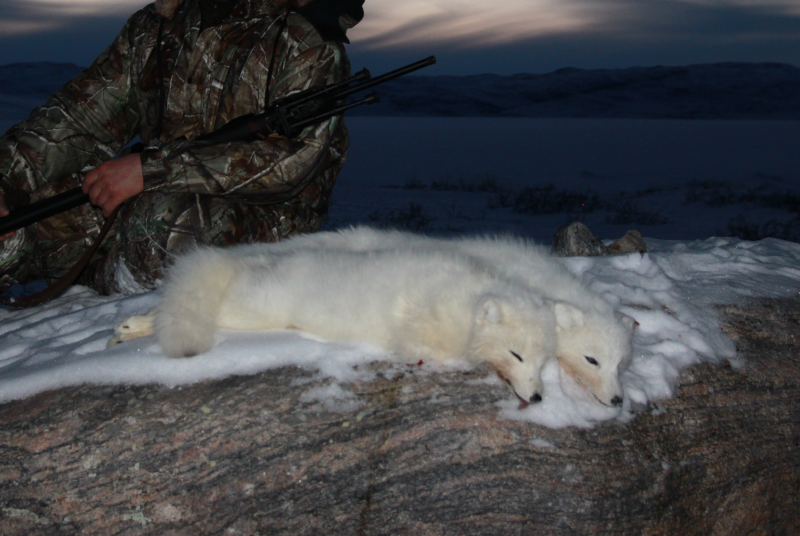 We also offer special hunt on arctic fox, ant these hunts can be arranged all year until the end of 2024. We do hunt arctic fox on our normal hunts, but these hunts are for the hunter with focus on this little smart fox. Its just about same size as the snowhare.
There are both white and brown arctic fox, and both change to a thinner summerfur with more greyish colors, but are also very beautifull. If you want a completely singlecolour white or brown, then its best from start november until end of april. Young foxes from the summer is full size in november, but can have slight grey hair in the fur.
Ravens is part of the package, and is also all year. From 1/8 until a few days into september also canadageese. Snowhare from 1/8 to 30/4, ptharmigans from 1/9 to 30/4, and great northern singer and a few other birds from 1/9 to mid september.
Before you arrive we will during some days make feeding places for the foxes, and depending on time of year transport will be car/boat/snowmobile/walking, and we stay in cabins. (can be tents during summer if we go on a backpack hunt far away from town).
Arctic foxes are smart and easy to scare, so its almost not possible to sneak up on them, so the best hunt is vaiting in hiding for them at feeding places, and along the coastline they patrol every morning and evening, and also in night during summer.
We shoot them at around 100 meters with a cal.17 with bipod, and full metal jacket ammo, and we usually only get one chance pr fox. So its recommended if you bring your own small rifle that you know and can hit precise with. If you can hit a 5 cm target at 100 meters, then its pefekt.
All hunts are arranged special for each hunters, depending on the time of year for hunting method, lodging etc.
On arrivalday vi depart to the huntingarea, and start the hunt same evening, thereafter there is 3 full huntingdays, where we go to town in the evening the last day.
Price pr hunter is 2.500 euro.
In july-sept the hunt can be combined/extended med troutfishing in lakes, and in winter with icefishing for cod and fjordcod. Ask for possibility and price.